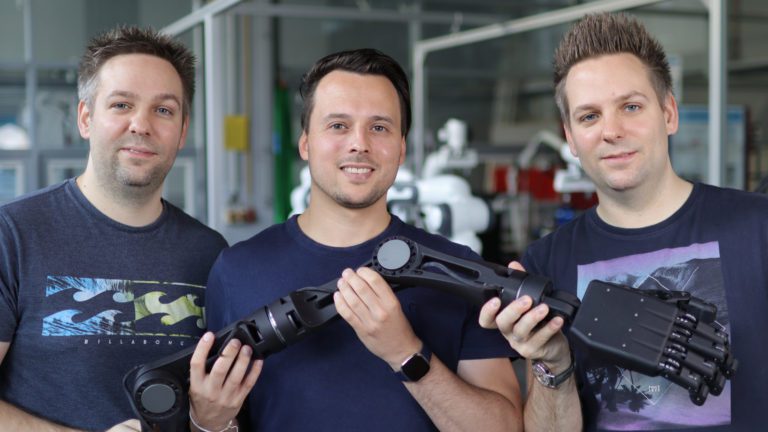 In the second episode of our #RoadToSuccess series, we interviewed the founders of Aeon Robotics: Dr.-Ing. Sönke Michalik, Dr.-Ing. Sören Michalik as well as Dr. Lars Heim. The brothers Sönke and Sören Michalik successfully completed their PhD in 'Information and Systems Engineering' at the TU Braunschweig. While searching for a co-founder with a background in business administration to complement their fields of expertise, they were introduced to Lars, a doctoral graduate from the Clausthal University of Technology, through an online matchmaking platform. 
Aeon Robotics has invented a robotic hand that can be intuitively taught  hand movements using a human-worn control glove. Their solution consists of a dexterous robot arm and hand combination inspired by the human anatomy and is therefore ideally suited for operations in environments designed for humans. The robot system and teaching method uses novel approaches in the areas of intuitive teaching, drive technology and AI-based grasp adaptation. Therefore, the system can be trained to perform a specific task just by doing the movement and can be adapted to differences in object characteristics and to changes in the work area. The technology is currently still in the prototyping stage, however, due to the innovative nature of their solution, all key components have been protected in a patent application. Impressingly, they have recently been awarded the "Gründerpreis+" by the Federal Ministry of Economy and Climate Protection, further underlining the innovative nature of their idea. Aeon Robotics plans to launch their HandEffector in 2023 and is preparing the market launch with pilot customers from various industries.
Why did you and your co-founders decide to become entrepreneurs and start a business?
"Our goal is to bring current developments in robotics, which have resulted from research to the market as products in order to leave well-established paths. We want to make robotics available and usable for more people, companies and applications. Of course, the freedom in general that comes with having your own company is also important to us."
What did the process of ideation look like?
"Sönke and Sören were already involved with robotics during their studies. At the university they were part of a Robocup team, building and teaching robots to play soccer. Defective or malfunctioning servo motor drives due to overheating were a common issue in the Robocup competition. It became clear that the technology was not yet advanced enough for continuous use. Since they couldn't find any reasonable drives on the market to develop a human robot, they thought: Why not build our own? From this, the idea of constructing human inspired robots for industrial applications developed. That was the birth of Aeon Robotics."
How do you expect to profit from founding your company in Braunschweig?
"There is a growing startup community in Braunschweig with companies that are also in the high-tech sector. Through the exchange with other local startups, we benefit from the experiences of other founders. In addition, there are various opportunities to support startups, such as the MO.IN incubator or the W.IN accelerator, which have helped us in our development as a company and continue to help build a network."
How have you, as a spin-off of the TU, been able to benefit from the TU Braunschweig network and local offerings?
"As a spin-off of the TU Braunschweig, we were able to acquire a first source of funding through the support of the Technologie Transferstelle with the EXIST Gründerstipendium. We also receive support from the Institute for Robotics and Process Informatics and will continue to cooperate with them in future projects."
What was your motivation to partake in events organised by the Entrepreneurship Hub?
"For us, building a network is very important. Often, you make important industry contacts from acquaintances you meet at get-togethers or other casual networking events. But it is also important for us to find people we can talk to if we have concrete questions or problems."
What piece of advice can you give to help a prospective entrepreneur?
"Never rest on a grant. Always keep an eye on the time horizon and seek follow-up funding in time. Find industry contacts quickly to get in touch with real problems and use cases. Future investors may also be found here. Last but not least: build up a network and accept all offers for startups that are available. You can only profit."
While Aeon Robotics is busy planning next year's initial product launch, they have still not lost sight of their long-term ambitions. After the launch of the HandEffector, they plan to release their own collaborative robot arm and expand into various industries. In their eyes, pick-and-place applications are just the beginning. Either way, we are excited to see what the future holds and wish Aeon Robotics all the best on their #RoadToSuccess.