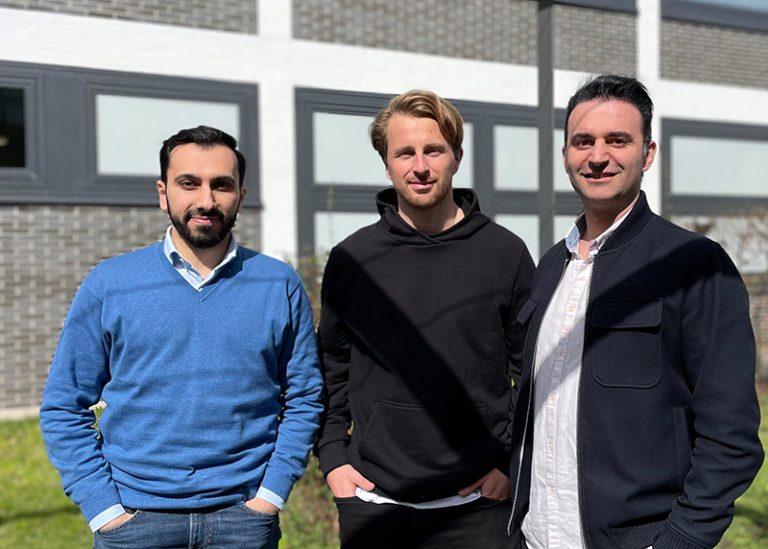 In the next episode of our #RoadToSuccess series, we had the pleasure to interview RobComp. RobComp is a cutting-edge manufacturing company founded by Dr.-Ing. Mohammad Bahar, M.Sc. Bernd Feldhaus, and M.Sc. Yaser Zyada. Each of the founders brings their unique expertise to the table: Mohammad Bahar has a PhD in Fiber Composite Technology and Additive Manufacturing and is skilled in concept development and automation of manufacturing processes; Bernd Feldhaus holds an MSc in Technology-oriented Business Management and is an expert in sales, marketing, and networking with companies while Yaser Zyada holds an MSc in Mechatronics and Robotics and is proficient in programming, robot control, and automation. Together, they have been able to complement each other and turn RobComp into a promising start-ups from the TU Braunschweig.
From the dissertation to the founding idea
The idea for RobComp came about during Mohammad Bahar's dissertation, which was supported by approximately 50 students in their final theses. Bernd and Yaser successfully completed their theses on the same topic under Mohammad Bahar's supervision and met in a bakery to discuss the details of the idea as a start-up shortly after.
RobComp offers a new manufacturing process for lightweight structures, which combines three methods on a system equipped with a six-axis robot: Automated Fiber Placement (AFP), Additive Layer Manufacturing (ALM), and Artificial Neural Networks. First, reinforcing fabrics are placed on the tool form, and any gaps that may occur are detected and located by a profile sensor. Then, a new path for 3D printing is automatically generated in the gap area and filled with continuous fiber-reinforced thermoplastic composite material. This method results in faster, more cost-effective, and simpler production as no additional layers are required, allowing fiber-reinforced plastics components to be produced more homogeneously.
The idea for this new manufacturing process arose from the challenges that come with using AFP, an established manufacturing process for large structures in the aerospace industry. Gaps and negative effects in the placement of fiber composite tapes are considered a significant source of errors, especially on curved surfaces. Therefore, a new research project was proposed and approved by the German Research Foundation (DFG) at the Institute of Mechanics and Adaptronics, involving several students and scientific assistants. The overall concept of the AFP/ALM method using a 6-axis robot on a doubly curved surface was the subject of Mohammad Bahar's PhD thesis.
They fulfil their own desires by working on their business
When asked about the biggest risk they and their business are currently facing, the RobComp team stated that they are solely focusing on this project and trying to position themselves in the markets and research areas. Currently, they do not see it as a risk, instead more as a challenge that they must address specifically. Similar to most ambitious entrepreneurs, the founders decided to start their own business as they had two options: either to work as employees in a company and try to fulfill their boss's wishes or to fulfill their own desires by working on their own company.
The founders decided to start their business in Braunschweig because they studied at TU Braunschweig and made valuable contacts during that time, which is a strong motivator for them. In addition, the TU and the city offer several valuable programs that support founders and they are glad that they were able to know of and use these opportunities. They expect to profit from founding their company in Braunschweig by leveraging the resources and programs available to them, among others those offered by the Entrepreneurship Hub, as well as the valuable network they have built in the city.
In conclusion, RobComp is a promising new company that has developed a novel manufacturing process for lightweight structures. The team consists of highly skilled and experienced founders who are motivated to succeed. Their focus on research and development, as well as their ability to identify and address challenges, will undoubtedly lead them to success in the future. The Entrepreneurship Hub wishes the entire RobComp team all the best in their future endeavors and their #RoadToSuccess.